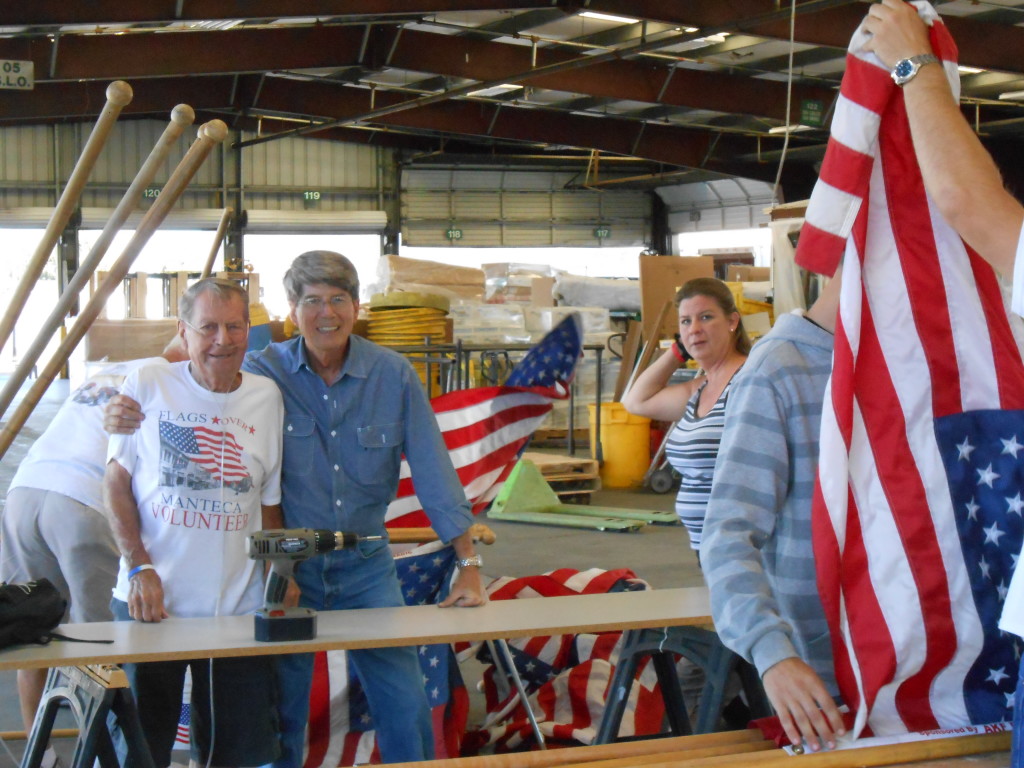 Les Thomas (left) has been leading the team since we started our Flags Over Manteca program.
Flags Over Manteca is the Manteca Chamber of Commerce signature event. It was born out of the attack on the World Trade Center September 11, 2001.  In 2002 the Chamber along with the City of Manteca raised $60,000.00 to have 2400 holes drilled and flags monogrammed and hardware made so flags could be placed out on holidays.   Flags are sponsored by individuals or businesses and monogramming is placed on the edge of the flag. The Flags are placed out by volunteers on the following dates:
January:   Martin Luther King Jr. Day (Monday 1/15/18)
February:   Presidents Day (Monday 2/19/18)
May:   Armed Forces Day (Saturday 5/19/18)
May:   Memorial Day (Monday 5/28/18)
June:   Flag Day (Thursday 6/14/18)
July:   Independence Day (Wednesday  7/4/18)
September:   Labor Day (Monday 9/3/18)
September:   Patriot Day (Tuesday 9/11/18)
November:   Veterans Day (Sunday 11/11/18)
December:   Pearl Harbor Day (Friday 12/7/18)
Be a Sponsor to help maintain our flags!
Call the Chamber at (209) 823-6121 to see how you can help.
15 Years ago the Manteca Chamber started "Flags Over Manteca"!    2500 Flags go up for 10 Holidays every year!
---
Congressman McNerney recognizes Flags Over Manteca
---